Click-em Wood Sheep
The Click-em Wood flock comprises of 36 Pedigree Hebridean ewes and rams with 17 lambs, at the minute, still at foot.
And, under the same name, a pedigree flock of Castlemilk Moorits which consists of 27 ewes & rams with 23 lambs at foot until they leave, for new homes, after weaning.
Our main stock rams are our Hebridean ram Lings James & Pen Mill Tarragon our Castlemilk Moorit ram.
We have used Castlemilk Moorit Click-em Wood Jim, our own bred ram, on unrelated ewes over the past two years & this last year we also brought in a Castlemilk Moorit ram lamb Eastwoods Forge Freddie & he ran with ewes related to Tarragon & Jim. Thus ensuring, a good mix of blood lines in this graceful 'deer like' at risk breed of sheep.
This year we intend to bring in a Hebridean ram lamb to give us an option to use some of our own bred ewes. Our HSS flock no is 6150.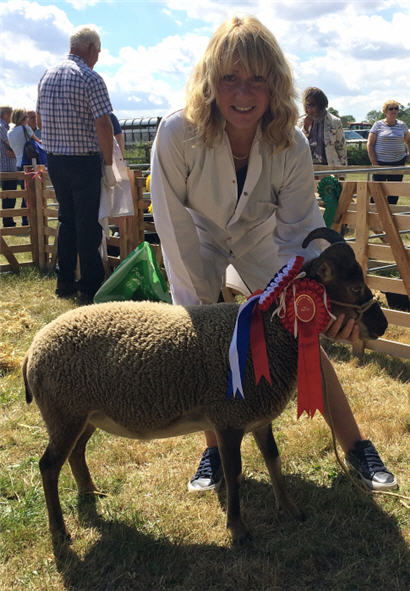 Izzy - five times primitive champion 2018
For the last few years we have been showing our sheep successfully at some of the country shows that are held in the summer months & we have taken some of our stock to the Melton Mowbray Show & Sale which is held over two days in September. We have managed to win numerous Primitive Championships both with Hebridean rams & ewes & also with Castlemilk Moorit rams & ewes.
If you want to know more about Hebridean's or local shows then why not click the rosette to visit the Hebridean Sheep Society website.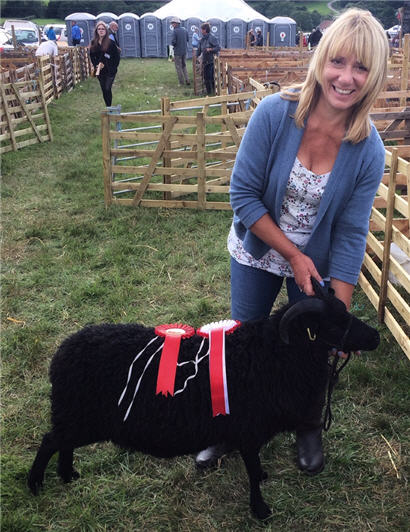 Showing 2018
Just last summer in 2018, Izzy our Castlemilk Moorit ewe, daughter of our multi-primitive champions Camellia & Tarragon, won four consecutive primitive championships at her first four summer shows, Malton, Driffield, Heckington & Rydale taking over from her parents in style.
Tarragon had a couple of reserve championships & was first in his class on two other occasions but Jim, his son was snapping at his heels and beat his Dad coming first at the Rosedale Show & the Ashover Show.

Our Hebridean sheep also did well at the shows with our shearling ewe, Star, winning her classes at Malton, Driffield, Wragby & then went on to become Primitive Champion at the Bilsdale Show.

Our Hebridean lambs, both ram & ewes, achieved really good results with Spike our ram lamb achieving 'the best lamb in show' at Wragby & also winning his class at four other shows. Thistle, our other ram lamb was always close behind him but at the Malton Show he came out on top winning his class on the day. Jet, our ewe lamb came first at Heckington & Amethyst came first at Driffield & then became Reserve Champion at the Ripley Show.

Finally, our Castlemilk Moorit ewe lamb, Praise, won the ewe class at the Melton Mowbray Show & Sale in a field of adult ewes & then went on to become Reserve Champion.

To keep up with our showing results this summer or to look back at previous years, take a look at our Facebook page which is always up to date & has photo's as well as posts to show what we get up to throughout the year.