Click-em Wood Sheep
The Click-em Wood flock comprises of 33 Pedigree Hebridean breeding ewes and in 2015 we bought a new pedigree ram from the Northamptonshire Wildlife Trust. His pedigree name is Lings James.
The Castlemilk Moorit flock has expanded to 15 registered breeding ewes, one of which has 6 primitive championships to it's name. The ram's name is Penmill Tarragon who's details can be found in the RBST combined flock book.
This is also a primitive breed on the RBST at risk list.
Our Hebridean Sheep Society flock no. is 6150 and the name for both flocks is Click-em Wood.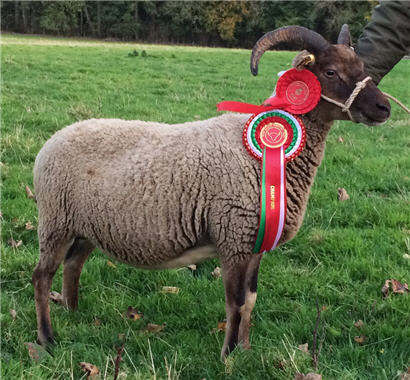 Camellia six times champion.
For the last few years we have been showing our sheep successfully at some of the country shows that are held in the summer months & we have taken some of our stock to the Melton Mowbray Show & Sale which is held over two days in September. We have managed to win numerous Primitive Championships both with Hebridean rams & ewes & also with Castlemilk Moorit rams & ewes.
If you want to know more about Hebridean's or local shows then why not click the rosette to visit the Hebridean Sheep Society website.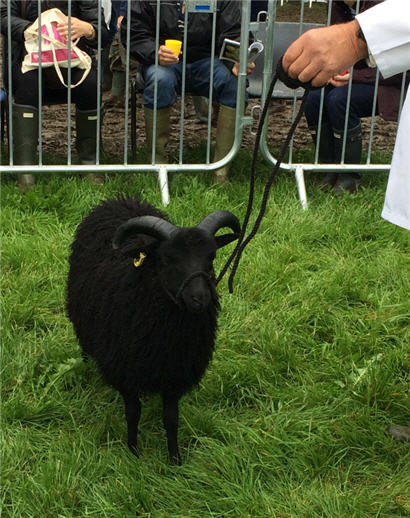 Showing 2017
Just last summer in 2017 we won six primitive championships & one reserve from the eight shows we attended.
For the last two years there has been a cup presented by the Castlemilk Moorit Sheep Society to the most points accumulated by a member for showing through the summer months & we have managed to win this both years.
We have also received the highest prices several times in the past few years for our stock both for adult sheep & lambs at the Melton Mowbray Show & Sale.
To keep up with our showing results this summer or to look back at previous years, take a look at our Facebook page which is always up to date & has photo's as well as posts to show what we get up to throughout the year.