Stock for sale
We generally have a variety of sheep and lambs for sale.
In 2019, when the lambs are weaned in July, we will have ewes, rams and wethers available, some being from our primitive champions.
All Hebridean lambs will be sired by Lings James and our Castlemilk Moorit lambs will be sired by either Pen Mill Tarragon, Click-em Wood Jim or Eastwoods Forge Freddie.
All our sheep are double ear tagged, the Hebridean stock carry the H.S.S. ear tag and all come with their own registration document.
We aim to breed recognised quality stock and we were happy to speak, about our sheep, with a researcher at the Melton Mowbray Rare Breed Sale & Show last September. We have since found ourselves included in Adam Henson's new book 'A Breed Apart' published on the 16th May 2019.
We were very honoured to talk about our Castlemilk Moorits, especially as they were such a 'special' breed of sheep to Adam's father Joe. He saved the breed from extinction in the 1970's & the story is told in the new book.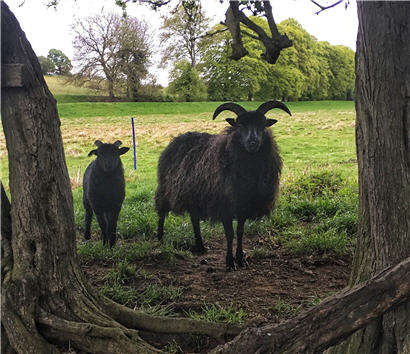 If you are looking to hire a ram either Hebridean or Castlemilk Moorit we may be able to help, please ask for availability or if you wish your ewes may be able to stay with us at tupping time.
We are also able to provide a delivery service if required.